MOTHER + DAUGHTER — Carra Sykes
Posted on April 22, 2013 by Haymaker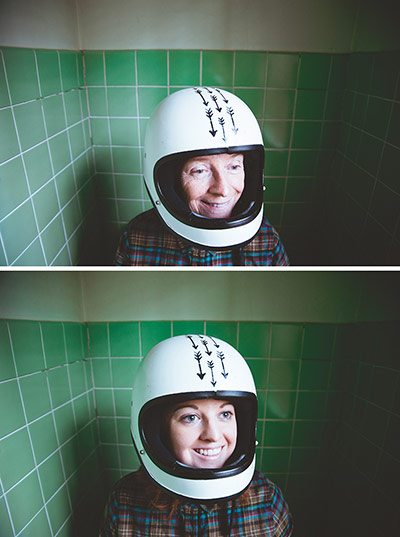 In the lead up to our draft performances tonight and tomorrow night, we've asked a few of our friends and collaborators to share their thoughts about Elektra. Sometime in early March, we stumbled across Carra Sykes' great MOTHER + DAUGHTER project.  It seemed eerily aligned to our aim for this second draft, so we asked her to collaborate with us. As you'll see at the performance, what developed was a great extension to both our projects.  
We know that you'd been doing some portraiture work while staying with your Mom after graduation. Tell us about the moment of inspiration behind the MOTHER+DAUGHTER series? Did you do something that reminded you of your mother or vice versa? (Or are we projecting?) After graduation, I didn't have a job lined up but I had been doing freelance and searching for a job. I kept applying to places (all out of state) and either hearing "no" or not hearing back at all. I began to get super bummed out about it and needed to do something creative to lift my bummers. I try to keep busy with personal projects in my free time, and I had been doing tons of self portraits and felt I needed to bring someone else into the picture. At this point, my mom and I were staying with my grandmother for a little while. We were around each other all the time and I was reminded of how my uncle likes to pick on her for wearing my clothes occasionally. Really, she just ends up wearing old band shirts I try to give away to Goodwill, but it's an ongoing joke with her and her twin brother. I had been wanting to do a photo project that was a series and so I thought it might be kind of funny to take almost identical photos of my mom and me while wearing some of my clothes. The first photo was a tester to see if it would be a project we'd want to continue, and it definitely became one! We got a major kick out of it and so did some friends on instagram and on the flickr community. We smiled and laughed and it was the perfect project to lift my spirit.
We found your mother + daughter photos on a lesser known site. Later we found out that they went VIRAL. How did it feel to have your project spotlighted by The Guardian and The Huffington Post?  I never even thought about how many people would want to see the series! It was crazy when I started getting emails from various sites wanting to feature the project. I was honored and stoked to be able to make people laugh or want to do a similar project. A lot of why I do my work is to try to get people excited about making and creating! I still forget it happened until someone brings it up again, haha!
Can you give us the story behind the three images that you've allowed us to use to promote the draft performances? (The boat / The plate / The Santa Fe theme)
In the boat photo we are wearing a shirt from the non-profit I do a lot of work with called To Write Love on Her Arms. Sometimes I just grab extra random props to make the photo more interesting or to have us have something else to interact with while posing. This time, looking back, it reminds me of the flag on boats that would read "don't give up the ship." To Write Love on Her Arms is a non-profit that helps find help for people struggling with depression, suicide, addiction, and self-injury. I guess in a way, holding the ship has us thinking "don't give up the ship," which is super neat to think about when looking back.
The plate photo was taken earlier on when we were still at my grandmother's house. I rearranged some furniture to clear it out a bit because it felt like it should be just the chair and large plate. This one definitely feels like a set for some type of production. Here we wear my high school soccer hoodie and hold the yellow pillow. We are posing like queens in a way, which is funny to think about in a mother/daughter relationship.
The curtain background photo was taken because I got a shirt that reminded me of the curtain. I thought it would be interesting to play with patterns that were similar and almost create a camouflage look. The added accessory of the headband created another line of sight and extra interest. Sometimes the props are completely random and other times they are chosen because they bring the photos together. I like to go with whatever I can, and then make it work! It's fun to see how the props interact with my mom and me creating a whole new narrative for each photo.
Do you have a favorite image in our collaboration? I think my favorite photo is the one where my mom and I are both sitting down together. It's pretty eerie. At this point, looking at it, I feel removed from the photo and I've become an onlooker. This is a new story for me to create, even though I was actually a part of the photo.
Other thoughts? We had a ton of fun doing the warm-up exercises (in rehearsal). I enjoyed seeing my mom interact and put on neat costumes and makeup. I still think it is so rad that y'all are in North Carolina and I am too. Haymaker is the only NC group to contact us about the series. When I was contacted, I was so excited to do a collaboration in person and not just on the internet! Thank you so much for hanging out with my mom and me! Keep making, keep creative.
Carra is a graphic designer and photographer. She currently lives in Greensboro, NC. She and her Mom, Marti, are most definitely good people. See her work at www.carrasykes.com and our draft performances tonight and tomorrow night: http://elektraprocess.eventbrite.com/